Your Future Is Our Business was formed by members of the Santa Cruz Chamber of Commerce education committee in 1993. YFIOB became a non-profit shortly after and ever since, our mission has been to provide every Santa Cruz County student with opportunities to discover a fulfilling and successful career. In the modern, shifting workplace, students need to make informed decisions that empower them to forge careers. We bring schools and businesses together to support students in becoming Santa Cruz County's next generation of workers. It's all about providing young people clear direction in their lives.
We implement work-based learning, the educational strategy providing students with real-life experiences and the opportunity to improve their academic and technical skills while developing their employability. Our work includes building a countywide network of community leaders and businesses who see the talent and potential in our students. With this incredible support, we host monthly career panels and expos at various schools, ranging from K-12th grade. Students receive a real-world setting along with practical advice on planning a career path. We are fully staffed by post-secondary interns, supervised by an executive director, all coordinating together to successfully run a non-profit organization.
YFIOB Staff and Board Members
Yvette Lopez Brooks (she/her)
Yvette Brooks is from San Jose, CA and the first Latina Mayor for the City of Capitola.  In 2006 Yvette, received a Bachelor of Arts in Sociology and a minor in Education from the University of Santa Cruz. Yvette is a wife and proud mother.
Yvette has dedicated nearly her entire life to youth in the community. She previously worked at the Santa Cruz County Office of Education for nearly 15 years and since her tenure on City Council,  has created strong policy with a focus on equity. She successfully created a Code of Conduct, allocated funding for Anti Bias training for Council Members and Staff and banned the sales of flavored tobacco products.
Yvette currently serves as a member on the Monterey Bay National Marine Sanctuary Foundation,   Executive  Board of Directors for the  League of Cities, LAFCO, Capitola's Finance Advisory Council,  The Children's Network,  Childhood Advisory Council and the Central Coast Early Childhood Advocacy Network.   As a policy maker, Yvette is committed to building a safe and healthy community.
Mary Gaukel Forster (she/her)
Mary has spent 40 years as a distinguished educator and administrator, a career in which she regularly went above and beyond to help English learners and continuation schools within K-12. She has served as principal at a variety of schools in Santa Cruz County and was Executive Director of YFIOB from 2015-2019. She received Red Cross Central Coast Educator Hero Award in 2018 and continues to stay involved in the community. She is currently in charge of Educational Partnerships with YFIOB, is a CASA advocate, and busy grandma/teacher to her grandkids.
Kim Espinosa (she/hers)
I was born and raised in Santa Cruz along with my parents.  I graduated from Soquel High School where I volunteered and worked for the Live Oak School District for over 20 years.  I recently retired from LOSD and am currently working with Your Future Is Our Business and as a bookkeeper for Sea to Sky Farm. I've been married for 30 years, I have two grown children, 1 cat and a new puppy we just adopted.
Patrick Harte (he/his)
I was born and raised in Santa Cruz County. I am a lover of most outdoor activities, whether it be in the ocean or in the mountains. A big part of my life over the past 20 years has been bicycles, whether it was racing downhill early on to riding a gravel bike these days. I am back in school after graduating from Soquel High a long time ago and I'm so grateful to be back in academia. I am pursuing a degree in Environmental Science from UCSC with an emphasis on joining UCSC's Science Communication program. I joined Ksquid at the beginning of the summer as an intern and it has been awesome! I have enjoyed producing a couple of radio features, DJing a music show, I've conducted interviews surrounding the fires and on election night, as well as guest hosting The Cutting Edge Show. I am thankful for the opportunity to join what sounds like a fabulous program and group of people with Your Future Is Our Business as the new host for the What To Be radio show. I look forward to interviewing some great people and helping grow this organization.
Lexyy Trinidad (She/Her)
Lexyy Trinidad is a first generation student from Watsonville. She is proud to come from a mixed background of Native American, Mexican, and Filipino ethnicities. Lexyy graduated from Aptos High and has since then completed her AA's in Communication studies and Liberal Arts at Cabrillo College. She is currently applying to universities to pursue her bachelor's degree in Marketing & Advertising. Lexyy spends her free time building her marketing skills freelancing as a virtual assistant for local small businesses, playing with her frenchie "Cash" and spending time with family & friends. Growing up Lexyy's family was always heavily involved in her sports teams and the community in general so she spent a lot of time volunteering at church camps, food drives, fundraisers etc. and ultimately  grew a love for volunteer and nonprofit work. She loves the rewarding feeling of being able to make someones day a little better. Lexyy is super excited to continue to grow with Your Future is Our Business!
Doreen O'Donovan
Doreen O'Donovan is from Dixon, CA. In 2005 she received her Master's in Public Policy with a focus on education at the University of Michigan. For the past 20 years, she has worked with several Bay Area education organizations. She previously worked as a Research Analyst and Statistician at Cabrillo College. Her experience includes education research, data analysis, labor market reporting, education software design, project management, and training. Her projects included managing a Federal WOIA II Grant, K-12 best practice case studies, introducing STEM afterschool activities to underrepresented populations, and conducting a technology audit in County Office of Education, Special Education classrooms.
Brianie Gonzalez
Hi, my name is Brianie Gonzalez. I am a Mexican first gen student entering my 3rd year at UCSC. I am majoring in History and Education. I am still exploring the opportunities that my degree can bring but hope it can be a field where I get to work with children. When I am not doing school work, I volunteer at the radio station on campus, work at a summer camp, or hang out with my friends. The rest of my free time I use for the stuff I love like drawing, hiking, fashion, and especially dancing. 
Lucius Mitchell
Greetings, My name is Lucius Mitchell, I'm excited to be apart of the YFIOB team this year. I am in my fourth year at UCSC studying global economics, with a focus on Europe and Germany. I have multiple years of professional experience, and am passionate about helping others succeed. In my free time I like learning about art, running, or learning new languages.
Catherine Romero
My name is Catherine Romero. My pronouns are She/Her. I am half Mexican and Salvadorian. I am an Education major and I am a first gen student. This is my second year and I'm excited to be joining the team.
Kameryn Hawes

My name is Kameryn Hawes, I am 17 years old and I am a senior at Soquel High School. I have been a Capitola resident all my life and love our little town. Growing up in this small beach community, I have always prioritized my connection to nature and commitment to sustainability. I have further advanced these interests in and outside of school through organizations, clubs, and classes. I am part of Eco-Club at Soquel High where fellow students and I garden around school grounds, hike, camp, and work on small sustainability projects around our campus. In my sophomore year, I took Environmental Science and in junior year I took AP Environmental Science. These courses have deeply shaped my environmental, political, and social views as a young adult. I am also a leader in a youth-led organization called Youth for Environmental Action (YEA) held at the District Office of Education in Santa Cruz. In the last year, students from various schools in the county came together to discuss environmental concerns with the hopes of making positive changes in our community. We held a summit last spring at Harvey West Park and invited other students to learn from different speakers of different backgrounds and specialties. YEA is currently working on a community garden in Watsonville to bring greenspaces and education everywhere! I am thrilled to be a new member of Soquel Creek Water District so I can further my environmental knowledge and education. On a different note, I prioritize my quality time with friends and family. A few of my hobbies include surfing, sewing, lacrosse, and garage-saling. I am an avid thrifter and religiously go garage-saling on my Saturdays. I have been playing lacrosse since the 5th grade and am proud to say that I started the first girl's lacrosse team at Soquel High last spring. Ultimately, my goal is to work towards a greater future where all people can experience Earth's natural beauty for generations to come. 
- Hover over images to see more details
David Wright 
David Wright is the VP of Operations at Elements Manufacturing in Santa Cruz. He has a Master's Degree in Public Administration from San Diego State University and a BA from the University of the Pacific. He's bilingual Spanish and a Rotary International Scholar.
Dave is a co-founder of Santa Cruz County Friends of the Rail & Trail and served on their board of directors until December 2015. Other nonprofit work has included CEO of the Santa Cruz Chapter of the American Red Cross, Executive Director of SLV Recycling and volunteer with Amigos de las Americas. In his spare time, Dave plays the guitar, teaches at Cabrillo College, and does welding and millwork projects. He and his wife have two children and have lived in Santa Cruz County since 1991.
Cristine Chopra
Cristine Chopra is the Executive Director of the Santa Cruz County College and Career Collaborative. She was born and raised in Dana Point CA. She moved to northern CA when she enrolled at UC Santa Cruz where she earned her bachelor's degree. She began her career in education in 1996 as a high school English teacher in San Jose before moving to Seattle. While in Seattle she served as the Director of the Collaborative for Instructional Development at the Washington State GEAR UP Project as well as supporting the Center for Curriculum Transformation and the Center for Multicultural Education. Dr. Chopra earned her Ph.D. in Educational Leadership and Policy Studies from the University of Washington in 2014. She has taught undergraduate and graduate students at UCSC, and CSUMB but is happy to have come back to K-12 work. Cristine strives to assist districts to think of their students' futures beyond high school graduation and bridge the divide between K-12 and postsecondary institutions. She is a new board member with YFIOB but has partnered with them for 5 years through her work at the County Office of Education and appreciates the multiple opportunities YFIOB provides for students to find their passion and path early in life. 
Her advice to young people is to explore career options early, know what it takes to get there, and leave every opportunity open for yourself now and in the future. 
Nicole Beaver

Nicole was born and raised in Watsonville, CA. She started working at Bay Federal Credit Union when she was 19 years old and a teen mom to 3 year old daughter, and has been at that job ever since. Bay Federal has their own internal certification and training programs, that has allowed her to move up in her career. She has worked at every branch of Bay Federal, but is currently the AVP Branch Manager at the largest branch in Capitola. She has won multiple Branch Manager Awards, Service Excellence Award, and Sales and Service Awards.  In her spare time, she enjoys spending time with her three kids by going on walks, watching shows and movies, going to the beach, eating lots of yummy food, and just being together. Nicole joined YFIOB over 7+ years ago. 
"I feel truly blessed to work for an organization that gives back to the community and grows their employees.  I got involved with YFIOB because one of my co-workers, who was sitting on the board, was relocating to a different state. She was so passionate about YFIOB, and she thought it would be a good match for me to fill in her spot. Boy, was she right! This organization is amazing, and the students' lives that they are impacting is immeasurable. My career advice is: Look at every mistake in life as an opportunity to learn, grow, mature, and evolve. Only you, can own your destiny, so grab ahold of it and shine.
Elaine Johnson
Elaine Johnson was born and raised in the Bronx, in New York City, where she was first introduced to after school programs. She learned early on the value of mentorships, and different programs that assisted youths in keeping them on the right track.
Elaine holds a bachelor's degree in Political Science and a Juris Doctorate from Monterey College of Law. She is a certified mediator and has training in juvenile dependency and criminal law. Elaine has worked in the fields of Juvenile Dependency, Mediation, Santa Cruz County District Attorney's Office, Santa Cruz County Trial Lawyers Association, County Office of Education (Mock Trial and Elementary Law Programs), and also county-wide campaign management (Cabrillo College Bond, Housing Measure, elected officials.)
She recently designed, launched, and currently manages the Santa Cruz County Neighborhood Courts Program, which is a pre-filing diversion program of the District Attorney's Office that uses restorative justice principles. This program is designed to keep low-level misdemeanor offenses out of the traditional criminal justice system. What Elaine loves about this program is that it gives people a second chance and heals and restores harm that has occurred in the community.
Elaine joined YFIOB in December of 2021. "As people mentored and encouraged me to dream big when I was young, I joined because the work that this organization does is the same kind of work that helped me to see that there were no limits. With the support of mentors and programs, and the vision that this organization has, I know the same benefits or gifts will be offered to our youth throughout Santa Cruz County."
My advice that I would offer our youth today would be to "Believe that you can, no matter what. Let others mentor you, particularly those who have walked or are walking the path you are interested in. There are many stepping-stones in life that will get you to where we want to go. Stay open to all possibilities. Reach out for help when in need of clarity as to what you want to do. People want to support you. Let them. My motto is "Yes you can, I believe in you, and I am never ever giving up on you."
David Lee
David is an Assistant Professor of Computational Media at UC Santa Cruz, where he directs the Tech4Good Lab. His research interests are in social computing and in designing technology that promotes flourishing in education, work, and community engagement. One of his current interests is in developing sustainable ways to link experiential learning to supporting community projects and needs (see his TEDx talk on Redesigning Our Economy to Maximize People's Fullest Contribution). His work has received paper awards at AAAI HCOMP and ACM CHI, been published in the Proceedings of the National Academy of Sciences, and deployed with the Finland Ministry of the Environment. He received his PhD from Stanford University and his BS from the California Institute of Technology, and he is a recipient of the NSF Graduate Research Fellowship, the Accel Leadership Program Fellowship, a Magic Grant from the Brown Institute for Media Innovation, and the Baskin School of Engineering Teaching Excellence Award. In his spare time, David loves to read books, take hikes, sing worship songs, serve at his church, and hang out with his wife and three kids. He is passionate about supporting individuals in reaching their full potential and contribution, which is why he loves YFIOB's mission and work!
His advice to young people is to reflect about who you are and who you want to be (Authenticity), to engage in and be open to the opportunities you have (Attention), and to find ways to create alignment whenever possible (Alignment).
Michael Marheineke
Michael was born near St. Louis, Missouri but moved to the Los Angeles area at the age 6. While attending grammar school, Michael enjoyed learning to play trumpet and singing in choirs from the age of 7. At 14, Michael left home to attend St. Francis Junior Seminary High School in Watsonville and followed the path toward priesthood for the next 13 years. Three years of that training was spent as a jr. high and high school teacher back at St. Francis. Michael received a BA in philosophy with a minor in classical languages – very useful, for all the ensuing work he did.  After changing careers, Michael worked several jobs – pest control, insurance sales, street artist, cable car driver, bus driver / recreation director / music teacher – before going on to work for Graniterock for 38+ years. Now retired, Michael does art, helps with music at the Salesian grammar school in Corralitos, and has continued to be involved in music as a church musician in several communities, the last 42 at Holy Eucharist in Corralitos where he plays guitar and leads the congregational singing. Michael joined in Sept. of 2017 and has enjoyed being involved with this organization. 
"My advice to young people would be: if you can find a field about which you are passionate, and can work in that field, amazing! Enjoy and do a good job. BUT, wherever your career takes you, try to enjoy your work, be a contributing employee, and always do more than you are asked."
Hayley Mears
Since the age of two, Hayley was raised in Santa Cruz County, attending San Lorenzo Valley High School. She worked at UC Santa Cruz for over 5 years, serving students in various positions; most notably as an undergraduate academic adviser and an internship and job placement coordinator. She also worked as a career development specialist with special education students at Santa Cruz City School District. In her current role with the Monterey Bay Economic Partnership (MBEP), as a workforce development program manager, she facilitates development of Monterey Bay Career Connect, including a local college-level internship portal, Monterey Bay Internships. She is passionate about working to develop career pathways, work-based learning opportunities, and equitable college and career options for student and young adults. Through her work at MBEP, she is also a California Stewardship Network Fellow.She obtained an M.A. in Education Counseling with a focus on career services from San Jose State University, a Bachelor of Arts in Sociology and Dramatic Art from UC Santa Barbara, and an Associate of Arts from Cabrillo College. Her commitment to workforce development in the community inspires her to serve on local advisory committees including Pajaro Valley USD Career Technical Education Advisory Committee, Cabrillo College Computer Information Systems Advisory Group, Santa Cruz Workforce Development Board Tech Career Ladders Group, and now Your Future Is Our Business as a board member in 2020."My advice for young people is to seek out informational interviews and network! Three of my career positions are from networking.  It's not as scary as it seems and can make a huge difference in your job search."
Amy Nama
Amy was born in Santa Clara, California, and lived in San Jose, California until she was 3 three years old. At fifteen, Amy began attending Santa Cruz High and graduated from SHS in 1990 where she then continued her education at Cabrillo College and then transferred to San Diego State University. Amy studied Early Childhood Education in college and worked for After School Daycare in the before and after school daycare program as a teacher working with K-6 grade children. After college, Amy became a Recruiter for the local staffing company Express Professionals where she met and husband Jeremy, a certified arborist. Amy and Jeremy started to start a tree service company, Nature First Tree Care in partnership with another couple that has been successfully acquired by Davey Tree. After the acquisition of their business, Amy became a contractor with Central California Alliance for Health working in recruitment. Amy currently works at Graniterock as the Environmental Services Administrator. Before working at Graniterock, Amy worked in the Small Business Development Center at Cabrillo College which provides free advising to small business owners in Santa Cruz County. Amy is a continuous learner who received her notary certification last year and is currently enrolled in Spanish and a business class at Cabrillo, to become bi-lingual by the end of 2020. Amy joined YFIOB in December of 2019 and feels passionate about helping youth and this organization aligns with her ability to help support them with their career paths.
"My advice for young people is to use the resources available to help you on your journey to finding the career you love. Reach out to your counselors for advice and do the work needed to get you to your goals. Share your goals with a friend, they can help you keep them."
Nisha Patel
Nisha was born in London and moved to the United States at the age of 1.  She was raised in Santa Cruz and attended UCSC and later graduated from UC Davis.  As a teen, Nisha worked at the Boardwalk for Whiting's Food Concessions and later for a local Pharmacy in Aptos.  After graduating, she worked for the County Parks Department as a Recreation Leader and later for the Human Services Department as an Employment Training Specialist for the Summer Youth Program. Nisha has a Bachelor's Degree in Human Development with a minor in Sociology and Education and has been working in the human resources field for over 20 years with the County of Santa Cruz. Nisha is a certified Selection Analyst with CA State Personnel Board and is a Credentialed CA County Senior Executive with the CA State Association of Counties.  She is currently working towards her Lean Six Sigma Green Belt certification. Nisha enjoys spending time with her family and has served on the G-Ball Board (local girls basketball league) and has been an active member of the Bhartiya Cultural Association where she engages in many Indian traditional activities. Nisha joined YFIOB in 2016 to help youth explore various career opportunities especially in the government sector. Her advice to youth is "Maintain a positive outlook as you are exploring life to find the right career for yourself…build a large network to increase your resources."
Her advice to young people (like herself)? Sometimes dreaming big starts with something small: finishing your resume, sending an email to a prospective employer, growing your network by just one person. Focus on building these habits and eventually you'll find that the little things add up in a big way. 
Murry Schekman
Murry Schekman was born in Minneapolis, Minnesota and moved to Southern California with his father when he was 6 so he didn't have to shovel snow in the winter.  Murry has held several careers such as being a teacher, counselor, admin and part time teacher at San Jose State University in 2004. Murry began full time teaching after retiring from the world of K-12 education in 2015.  Murry earned his Masters in Education Leadership and Counselor Education as well as the credentials and is now teaching at San Jose State University. He serves on the board of the Elkhorn Slough Foundation and is also a member of the Rotary Club of Watsonville and joined Your Future Is Our Business four years ago because of his commitment to Your Future Is Our Business. 
What career advice or tip(s) do you have for young people ""Be clear on what you want and where it is!"
Carol Siegel
Born and raised in Portage, Michigan (Kalamazoo area). I attended Western Michigan University in Kalamazoo, Mi. Continued my education at Cabrillo College and received my Early Childhood Education Certification.  I also acquired a SPHR (Senior Professional Human Resources) accreditation. Director of the After School Day Care, Inc now called Campus Kids Connection, Inc, HR for McDowell's Group Homes, West Marine, Threshold Enterprise and the Santa Cruz Beach Boardwalk for almost 30 years. Employment Manager at the Santa Cruz Beach Boardwalk from 1995 – 2020. After Covid Lay-Off in July 2020, 10 months later I returned as Senior Talent Acquisition Specialist. Recruitment is my specialty. 
When did you join YFIOB and why? I joined officially 9/2021.  I joined because my work involves recruiting youth to work at the Boardwalk. Through the years, I am proud of the tens of thousands of youth in our community while working at the Beach Boardwalk have developed career and life skills.  I have witnessed so many young people through work find strength and a confidence they never knew they had.  Lighting the fire in a young person is miraculous and rewarding. 
Be open to possibilities.  I had a very circuitous route to finding a career I loved.  It took time and I did many jobs prior that helped me to develop my interest which led to other opportunities.  So stay open, don't feel like you have to know what your career looks like right now.  Unless of course you know what you want to do.  Go to college……it can be a vocational school or a community college or a 4-year and beyond. But try school and take classes that inspire you.  Oftentimes this leads to discovery of interests you never knew about.  It is OK to feel confused, insecure…..unworthy….you are not alone.  This is normal and with time you can slowly shift out of this….it takes patience…..say "yes' to things more than "no".  Find people you trust and admire and ask them questions about their career path.  There is not one answer for all situations. You have your own unique perspective and gift. No one else is YOU. Appreciate YOU…..and give yourself a little positive talk to get that engine running.  Your family, your community needs all of you. 
Margie Whiting Sisk
Margie was born in Santa Cruz ,the hospital on West Cliff Drive was  just up the street from where she works every day!  She's an alumni of Holy Cross Elementary, Harbor High and San Jose State University. 
Margie is part owner of Whiting's Foods , the largest food service provider on the Santa Cruz Beach Boardwalk and Kaiser Arena.  She oversees all things PEOPLE ( hiring , training, motivating!) 
Margie is 3rd generation in the business, started by her grandfather and father in 1953.  She has enormous pride in the job opportunities it has provided for so many local youth for 70 years..  
Her goal is for Whiting's employees to feel valued, learn job and life skills, develop a sense of responsibility, and learn to work well with all types of people. She has seen firsthand through generations of employees that entry level positions can lead to any career one chooses .  She sees how hard work can be fun and rewarding, and that life skills and lifelong friendships become more valuable than any paycheck.  
Margie has spearheaded many motivational and training programs that have won industry awards. She is constantly developing programs to train, educate & motivate today's teens and young adults.  
Margie has been a supporter of Your Future is OUr Business  for the last decade , but joined the Board in 2021.  She believes strongly in ALL the incredible  work of the organization , especially that many career pathways can start from that very first job.  
"I am  committed to help young people understand the value of work in their mental , physical , and emotional health.  So many good things can happen when you get a job…way beyond a paycheck!"
Jane Iana Kostina
Jane immigrated to the United States as a child and has spent her adult years in California and upstate New York. She graduated with a BS in Genetics and a BA in Psychology from UC Davis, where she was particularly interested in the genetics of plant drought and salinity tolerance. Working as a strawberry breeder in the Pajaro Valley since 2014, she is continuously amazed by the vibrancy and potential of Monterey Bay in the areas of agricultural excellence, nature conservancy, and building and nurturing thriving communities. Jane is passionate about science communication and encouraging local engagement with agriculture research and development, including emerging technologies and sustainability. 
In her free time, she enjoys reading about ancient civilizations, playing the piano, drawing and painting, putting together IKEA furniture for friends, and encouraging homeowners to replace their ice plants with native species.
Leslie DeRose

Leslie has been a tireless advocate for education for many years. She served as a Board Trustee for Pajaro Valley Unified School District from 2006-2018, serving as President of the Board for three terms. During her second term as President she led the effort to pass the Measure L School bond in the November 2012 election. The bond provided critical infrastructure and safety improvements, and created an IT infrastructure endowment to provide equity and access to all PVUSD students. She also led the effort to bring arts education back at every grade level in all schools. During her final term as President she led the development of the non-profit Pajaro Valley Education Foundation, and completed the process to develop the PV High School sports fields.
Leslie has worked in Career Education at Cabrillo College since 2013. Her work has provided the opportunity to continue collaborative work with all Santa Cruz County schools as well as UCSC and CSUMB to support the education journey and career connections for youth in the County. Leslie spearheaded the county-wide College Awareness Month that was recognized through proclamation by every City Council and the County of Santa Cruz.
Leslie draws on her own personal life and educational experiences when giving advice to youth:"Regardless of your life situation, education is an opportunity available to you with a community that will support you in your journey-you've got this!"
Leslie has associate degrees from Cabrillo College in Communications, Liberal Studies and Business, a Bachelor's of Arts from Cal Poly Humboldt in Leadership Studies and is a current graduate student in Higher Education Administration at Southern New Hampshire University.
Dante Searcy
Dante Searcy was born and raised in Sacramento, CA. Throughout his elementary through high school years, he participated in numerous speech competitions and developed a passion for public speaking. When he graduated from high school, he enrolled in an exchange student program where he lived in Panama for a year, attended La Universidad de Panama, and also learned to speak Spanish fluently. He is a first-generation college student who received his BA in Spanish from University of the Pacific, his Master's of Science in Administration from CSU Bakersfield, and is currently pursuing his Juris Doctorate at Monterey College of Law. Dante served in the U.S. Navy from 2008 to 2013 as a Farsi translator. He is now working as a Human Resources Generalist for Joby Aviation. In his free time, Dante enjoys participating in book clubs, riding his bike, and public speaking.
"My advice to young people is based on my favorite quote from Bill Gates: 'Most people over estimate what they can accomplish in one year, and underestimate what they can accomplish in 10 years.' If a job is hard at the beginning, give yourself time to learn it and master it. You may surprise yourself with what you're actually capable of accomplishing if you're willing to be patient with yourself. I would also encourage young people seek out mentors who can guide you on your career journey, especially if you are first in your family to pursue advanced education or a particular career field. Asking for help and allowing yourself to be vulnerable is a sign of strength."
Pamela Price

As a nurse of 30+ years, I am passionate about the medical field. With a main specialization in Cardiovascular Critical Care, I have also worked other areas of nursing such as Emergency Department/Trauma Center, Surgery, and finally have spent the last decade in Education. With the diversity found in a medical career, I am happy to partner with YFIOB and talk with those interested in joining the medical field to further explore the many options available.On the personal side, I have 3 grown children (and 3 dogs 😊) and am in a committed relationship for the past 18 years. Originally from Florida, I have lived in western New York and Arizona, but now enjoy living in La Selva Beach. I find the beauty of Santa Cruz county and the central coast of California to be unmatched. I am looking forward to promoting healthcare in this area and hopefully influence the growth of our beautiful county. I am appreciative of this opportunity.
Thomas Sage Pedersen
Thomas Sage Pedersen is a community builder, change maker, visionary, and renaissance man. He is best known for his podcast, Speak For Change podcast, which has more than 100 episodes and was founded on the mission of creating positive and lasting social change in our local and global communities. 
He is the founder/CEO of Everyone's Music School.  
He co-founded The Black Kings of Santa Cruz County, a local Black men's group, and is also a member of numerous organizations like the Community Foundation's Rise Together Santa Cruz County, an intercultural coalition of BIPOC leaders working to advance racial equity in Santa Cruz County. You can find him online on Instagram @thomassagepedersen and @speakforchangeproductions. 
Malina Long
Mary Guakel
Shareen Bell
Stacey Smith
Chris McGriff
David Weiss
Carolyn Auman: Senior Accountant Manager, Poly (Formerly Plantronics) Board Vice President
Tish Denevan: Former Community Employment Coordinator, Santa Cruz Seaside Company
Mark Hodges: Former Senior Director of The Santa Cruz County Career and Technical Education Partnership
Keisha Frost: CEO United Way of Santa Cruz County
Henry  Michel: Career and Technical Education Program Coordinator
Ralph Peduto
Alan Stormes: Founder Elements Manufacturing Inc.,
Aki Williams: Chief Executive, Defib This
Winston Whittaker: 
Les Forster
Emily Jacobsen
Maritza Lara 
Betsy Andersen
Casey Gaynor
Gerlinde Brady
Emily Ham
More names coming soon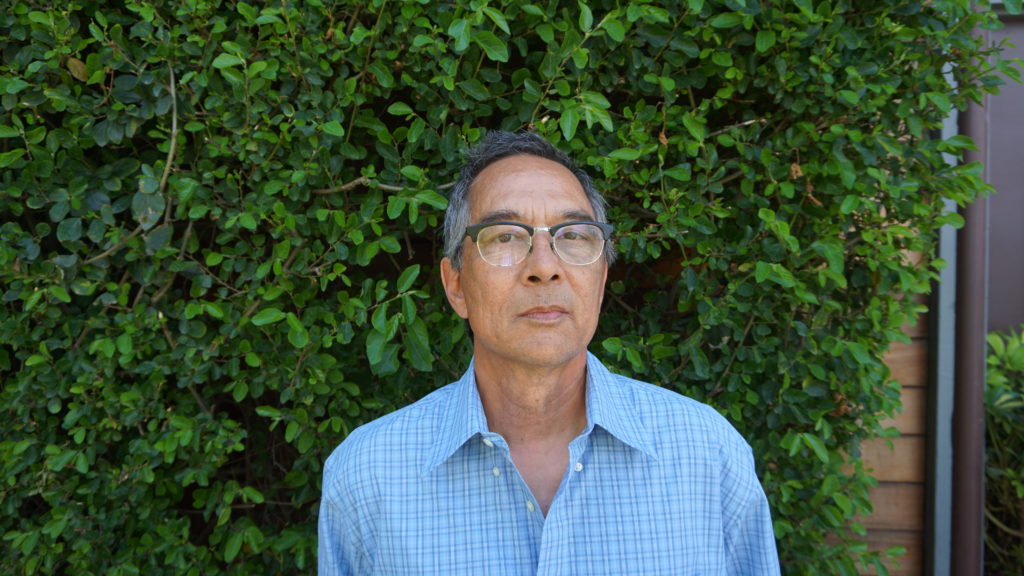 Alan Stormes, 1957 - 2019
Alan Stormes was a quiet, kind, and generous board member. Alan was always behind the scenes, looking for ways to help youth find their path and offering opportunities for youth to learn more about careers in the manufacturing sector. He gave tours of his company, Elements Manufacturing, to youth in order for them to learn more about commercial millwork and manufacturing. Read more about Alan below:
Alan Osama Stormes passed away on July 14, 2019 after a brief illness. He will forever be remembered by his family, friends and coworkers for his brilliant intellect, friendly demeanor, energetic work ethic, generous spirit and irreverent humor. Alan was born in Redland, California on August 16, 1957. He loved cars, airplanes, machines and, above all, woodworking. After graduating from San Diego State University he went on to form Elements Manufacturing in Santa Cruz, California. Alan's knowledge of machines, computers and construction enabled him to build a company of over 30 employees and hundreds of business partners that all work together providing commercial millwork to Silicon Valley businesses. In 2002, Alan met the love of his life, Kristy. Together they cared for one another, their family members and the many people in the community who came to trust and depend on them for guidance, love, friendship and support. To many of us, Alan was more than a friend or a coworker, he was a teacher. We sought his help, his ideas and his guidance on everything from business to manufacturing to life in general. In addition to building and teaching complex projects, Alan loved to fly small airplanes. In recent years he learned to fly gliders and piloted as an active member of the Hollister Gliding Club.
- Hover over images to see more details